Transmission To Klooton: Chores is a one of the mini-sodes that are found on the Nickelode
on website. After every new episode, Nickelodeon adds these mini-sodes to their website for fans to watch and enjoy.
Marvin introduces himself to the viewers (which are meant to be Klootonians) about chores. He reveals that he does chores so he can save up money to buy a yoyo that farts. He goes to the refrigerator to find a list of chores, and reads that he has to take out the garbage.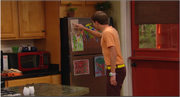 Marvin instructs to the viewers that humans are wierd; because they like to take out the trash, but aliens like to take the time to pick stuff out. He picks out some gum with dog hair in it, and eats it.
He then goes to the living room and is ready for the vaccuming. He reveals that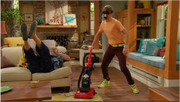 Pop-Pop
told him something about safety, and he has to wear a mask to protect himself (actually fake eye glasses with a mostache). Pop-Pop then laughs to himself because he just made Marvin wear them as a joke. Marvin continues to vaccume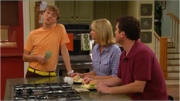 whilst wearing the fake eye glasses and mostache.
Marvin then goes to his and Henry's room to clean, and says that it's his job to clean it before he goes to college.
He then goes to his parents to collect his money. His mother suggests for him to save up his money for something good, but Marvin says he has something good in mind, and looks at the camera. His parents look in the direction of the camera and looks at the viewers wierdly.
Marvin shows his family that he bought a yoyo that farts and barks, and
Teri
tells the family to remind him that they have a dog that does both those things.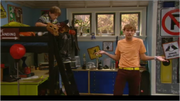 This webisode is the first one Nickelodeon uploaded to their website, after the premier of Pilot
It is shown that Henry and Marvin definatly share a room
None
Marvin: I got a yoyo that farts and barks!
Teri: Could someone remind him that we have a dog that does both those things?
Marvin: (Looks at camera) I have something good in mind.
Liz and Bob:
(Looks at the camera wierdly)